Diesel car + $1000-$2000 conversion kit + free, filtered waste oil from a fast-food joint = really low cost, environmentally friendly driving (ethanol alcohol can also be used, but unlike oil, can be added to gasoline in most modern cars without modification).
Grease Car, Frybrid, and Elsbett (this may be their online store) are companies that explain some of the details about converting your car and other issues. They each also sell kits for the conversion. There are 1- (costs more) and 2-tank conversions (in a 2-tank conversion, the oil is stored in the 2nd tank while diesel is stored in the primary tank). Works in cold climates too. After the conversion, the car will run on only diesel with no problem, but can also run on veggie fuel (using a separate tan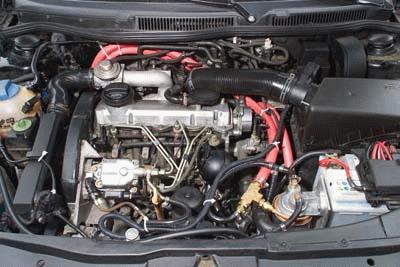 k). Newer TDI cars can also be converted. The car always starts using diesel, switching automatically to using the veggie oil from the separate tank only when the engine is hot enough to raise the temperature of the veggie oil so it can be used. Wonder if it would be worthwhile to convert the diesel to run on alcohol and also on veggie oil? In that case, the alcohol would power up the vehicle and veggie oil would be used when hot. Only issue that comes to mind here is that alcohol cars do not run hot. What follows is a short video talking about veggie oil recycling.
An interesting history of veggie oil as a fuel can be found here. This article talks about problems associated with vegetable oil polymerization and would be valuable to read before choosing a vehicle or conversion kit. The book, Vegetable Oil as a Fuel by Joe Beatty, available as a free pdf, talks about this and two other problems associated with veggie oil.
There are various companies and coops that collect and filter waste oil to improve its quality for use in cars.
Just for fun (and light) are various oil lamps you can make, some of which are shown in this video. Try 100% cotton yarn or cotton balls for wicks. But see this video for safety warning.
We'll want to compare alcohol, biodiesel, biogas, electricity, and vegetable oil for cost, fuel efficiency, and environmental impacts at some point in the future, but without such a comparison, vegetable oil seems like a contender. But, to get us started, here are some useful articles: