3 systems can be used solo or in conjunction with one another: (1) Generator and/or (2) Solar and/or (3) Marine battery with car charging it in emergency.
See parent article on prepping  priorities. Note that backup power is related to communication (a large priority because you'll want to find your family in an emergency, learn what is going on, and call for help if needed).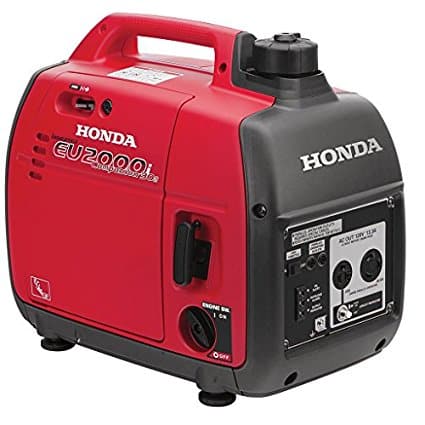 Cost is about $1000 for generator and $200 for trifuel conversion so it can run on gasoline, natural gas, and propane. Ideal setup would include a natural gas line to feed the generator such as used to fuel an outdoor natural gas BBQ. Another additional possibility is using biogas to power the generator (see the biogas section of this post). Make sure you store the generator correctly (see this article). Due to expense, this is not part of our system and thus not covered in detail (although there are detailed notes from other sources below). Plus, you can use your car as a generator (see below) and your car already stores gasoline safely. 
Some people talk about storing gasoline in various quantities. There's a reason we use gasoline so ubiquitously – it packs a lot of BTUs in a small volume. Obviously it's explosive. It also has a limited shelf life even with additives designed to extend the storability of gasoline. In addition to storing gasoline, or instead of storing gasoline permanently, some people have jerry cans or gas cans on hand and try to fill them proactively, e.g., if there's a hurricane warning, fill the gas cans. There's also the possibility of making your own ethanol to extend your own gasoline.

(2) Solar panels
Obviously solar systems can be sized to power everything from a light to a backup battery (below) to most of our electrical needs. Most systems in the city are tied directly to the grid. No reason you can't charge your batteries as a backup at the same time. This option gets little detail here because it will likely involve hiring a professional though smaller systems would not require this and may be covered at a later date. The Battery Backup System below can be modified to it is charged via solar, by adding a solar charge controller inside the box or

(3) Battery Backup System
Note about above picture: Steve Harris has excellent material on all of this, including DVDs and radio shows. The Battery Backup System consists of all pictured here. A Schumacher Proseries 30 amp charger (far left) is plugged into a surge suppressor (off screen to the left) and then alligator clipped to a 75-amp hour Vmaxtanks AMG Deep Cycle Marine Battery (or here). The charger is on 24/7 keeping the marine battery charged up at all times. Located in front of the charger are Instructions for the Battery Backup System along with a spreadsheet showing power requirements for various lights, chargers, etc. Attached to the battery is a single DC socket. Its red and black wires end in eyelets and are secured to the AMG battery with wingnuts. One DC socket extender is plugged into the DC socket. Plugged into the socket extender is a DC voltmeter, a USB charger (with 2 x 2.1 amp USB sockets, each hosting an iphone cable), and a Whistler 400 Watt inverter (immediately to the right of the AMG battery and sitting on a wood block to maximize air flow). An AC socket extender is plugged into the inverter with a 2 watt LED light plugged into that (this and the voltmeter give a constant and easy visual for the functioning of the system). The inverter also has 2 USB ports and one iphone charger is plugged in. To the right of the inverter is a smart AA and AAA battery charger plugged into the AC surge suppressor (but this would be plugged into the inverter in a power outage). Tupperware full of batteries is to the right. Baofeng UV-5RE is in the foreground (right) sitting in its charging cradle with USB-style power cord and programming cable (see post on Communications systems). All of this is portable so can be put in a vehicle and used on the road (see below for examples of using these and other items built into a toolbox with or without wheels to improve portability).

Deep cycle battery backup system. This can be charged from the car with an inverter connected to the car battery and an extension cord running to the house. Ideally, you would have a solar PV system on your home (or portable panels) and charge the battery from the solar array. In that case, you are pretty well set. Cost: About $600 (not including solar PV system).

Sizing the system. How many batteries you get and in what storage capacity is determined by how much you want to power and how long you want to power it. Watts = Volts * Amps is a useful formula for sizing your system, along with the understanding of amp hours: 60 amp hours means 1 amp for 60 hours, 10 amps for 6 hours, or 60 amps for 1 hour. Many appliances will have wattage information on them, however, you can also measure the wattage as its running by using a watt-meter. You can then convert to amps using the above formula.

The approach taken here is to use only the minimum electricity possible in an extended power outage and to use other fuel for heat (like a propane heater) or cooking (natural gas or camp stove). Cooling is achieved by spending time in cool basement and using of 1 or 2 low-powered 6-watt fans. Running the items in the spreadsheet below for the amount of time indicated will use 4.32 amp hours per day (note that some items are zeroed out with a "# of units" of 0). Thus, the 75 amp-hour battery will last 17 days before needing to be re-charged (using the car or some other system, like a generator). Deep cycle batteries can get discharged and recharged many more times than a car battery, however, it's best not to go below 50% of capacity (6 or so volts) unless it's a real emergency. Thus, we might think about charging the battery weekly if we can despite the fact that it could last longer if we charged more often.
The system described here will not run your refrigerator (eat first) or freezer (eat second), coffee maker, large box fans, furnace blower, sump pump, or similar large wattage items. Some of these items CAN be run (one at a time and with nothing else powered up) from a larger inverter powered by your car (which is also used to charge your marine battery). The system described here uses a 1600-watt inverter for the car.


Note that for power, time is a factor in an emergency. For that reason, you should get the highest amp chargers you can. 2.1 amp chargers are about the best you can get for charging mobile phones, etc.

Large marine deep cycle battery. Get Absorbed Glass Mat (AMG) or a Lithium deep cycle battery in large amp-hours. There are several primary advantages of Lithium batteries: (1) they are lighter in weight, (2) they output a constant voltage regardless of how much they are discharged, and (3) they can be drained and recharged many more times in their lifetime. However, they cost more than twice as much. However, lithium batteries are coming down in cost and for the DIYer (one store), you can now make a Lithium battery that is cheaper than an AGM battery but be careful about scams. Two good AMG options: Vmax 75

Pic source: Amazon

Ah at 45 lbs for about $200 or Optima Yellow Top 75 Ah at 60 lbs for $305. A 100 ah Lithium battery like this well-reviewed option costs about $790. You can use the same charging setups for both battery types.

Keep in mind weight if you want the flexibility of putting it in your car trunk for portable power (but , again, see below for more portable solutions, such as using a wheeled tool box).

Also be aware that there are different style battery terminals. the Vmaxtanks battery has 6 mm screw posts that don't provide much real estate for attaching things. You may want to get an accessory to give you more real estate by buying accessory charging posts (you will need to purchase m6 screws at a hardware store) and then a marine battery terminal kit. A cheaper version is just to buy longer m6 hex bolts and wing nuts (although stainless versions of these can cost $4 each) – use the longer bolts to clamp alligator clips to with the wing nuts being used to clamp down eyelet connectors.
DIY Portable Power Station or Power Box. Best version I've seen for this will cost about $600 and will perform better than the AMG system detailed above. It doesn't look as cool as the toolbox solution (described below) but it has higher capacity, lithium battery technology, has solar charging capabilities, and is portable. This youtube and the update describes how to build the system and details are available here. There is an upgraded version that is $100 more expensive. And another version that is higher capacity and around $1050 to build. Toolbox solution: More elegant than the AMG solution but much more expensive approach ($1000 or more) is to custom build a power station (pictured right and optimized for uninterrupted HAM operation by virtue of power supply and power gate for switching to DC when AC power goes off) or this version that isn't geared toward HAM radio or a smaller version more portable version built into an ammo can. A larger solar charging version is also possible. The largest disadvantage of enclosing your solar generator in a toolbox is heat management — it can get hot in the box, degrading efficiencies and life of components.


D, AA, and AAA batteries (note: these will be needed regardless of whether you choose a battery backup system, a generator system, or both. Thus, the cost of these batteries is not included in the $600 estimate)

D-cells (Duracell alkaline are best)
AA and AAA (Energizer Ultimate Lithium Long Lasting for your crucial items, like flashlights)

AA and AAA rechargable batteries (these are now better than they

Pic source: Amazon

used to be; get Eneloops)

Good smart charger (picture to right is a Powerex version) that can simultaneously charge 1-8 batteries of either AA or AAA. See here for a review of other chargers before purchasing one, particularly since he reviews chargers that operate off of DC in addition to AC.

A battery tester that actually applies an electrical load to the battery being tested and then tells you the remaining charge of the battery
Don't store your batteries in your devices. Have you ever gone camping and tried to turn on your flashlight only to find a battery leaked and the terminals are too corroded to work even with new batteries? Not good if it's an emergency. Thus, I now store my batteries separately from the device itself when that device is not used very often. Ideally, I store the batteries right next to the device to minimize fumbling around when the need is great.


Battery organizers. You can get

Pic source: Amazon

them at Amazon, but they are about half the price at the original company (first class shipping is $5.95 and can handle up to 13 ounces in one order so figure out your organizer needs and order at the same time for savings; most of their caddies are 1-2 ounces)

Inverter. $105 for 1600 Watt inverter for car (could be smaller, 400

Pic source: Amazon

Watt version is about $25). But, be aware that you will also need good inverter cables to connect your inverter to the battery and they may not come with your inverter. Don Rowe.com is a great source for these cables and also for advice on connecting questions (1-800-367-3019). For 1600 watt inverter, get 3′, 2 gauge, cables with eyelet ring on one end and alligator grip on the other. These will cost you around $50.


Charger. Schumacher 30 Amp version [

Schumacher PSC-12500A DSR ProSeries 125/15-40/2 Amp 6/12 Volt Automatic SpeedCharge Hybrid Battery Charger/Starter

] is portable for about $108 (this is the one in the above power bank picture). 55 Amp version is less portable but charges the battery faster (thus less car fuel) for about $78. You can connect a small inverter to the battery and plug a small light into the inverter as a constant indicator that all is working well. If you are recharging the inside battery using the inverter from the car, best to limit the draw load on the inside battery while doing so (< 200 watts).

Setup for inside marine battery (also, see caption of Marine battery setup picture). Connect charger to battery with alligator cables, plug charger in to AC outlet, attach 400-800 Watt inverter to battery and plug in a small desk lamp with 2 Watt LED bulb into the inverter. Better yet, use LED holiday lights. The light instantly tells you that both the battery and the inverter are working. The readout on the Schumacher charger will tell you volts or % charged. You can also connect a small DC voltmeter (pictured below) to a DC outlet (cigarette-lighter style) that will


Pic Source: Amazon

act as an additional — and more direct — indicator of the charge status of your battery. To get more real estate for alligator clips and eyelet connectors on the AMG battery, you can buy longer m6 bolts (6mm or whatever appropriate size for your battery) and use wing nuts for clamping down eyelets.


Your car is a generator: Car Power Kit and setup for inverter on car. Kit consists of a 2×4 piece of lumber with pre-drilled holes (this fits into a window so cords can be run through the hole and the window can be closed on the 2×4 instead of the extension cords), and a rubbermaid container containing: 100′ and 50′ yellow 12/3 extension cords, 1600 Watt inverter, DC voltmeter (like one pictured above), DC outlet extender (like one pictured below), and Car Inverter Instructions .

A note about the 12/3 yellow extension cords. The 3 refers to the # of wires in the cord. The 12 refers to the gauge of those wires which has an impact on how many amps and watts it can handle without tripping a breaker/fuse or getting hot. It carries the electrons more faithfully from one end to the other without the energy turning into useless heat. The package rates the cord at 15 amps, 125 V, 1875 Watt capacity (Remember the formula above: 15 amps * 125 volts = 1875 watts). Some people recommend staying below 90% of the rating: from this perspective, we would run a max power through the cord of 1687. Since we're using a 1600 Watt inverter, that seems about right.

Setup instructions (Car Inverter Instructions). Keep dry. Open the hood. Create a stable platform for the inverter (consider cable ties). Make sure the inverter is off. Red inverter cable goes to red terminal on battery with alligator clip, black alligator on inverter

Pic Source: Amazon

goes to black terminal on battery. The connection order doesn't matter; you will get a spark with the last connection regardless of order. No fuse is needed. No other grounding needed. Turn on inverter and plug in extension cord. Use power from car to power the Schumacher battery charger for the inside marine battery as needed (make sure there is < 200 Watt load on the inverter attached to the inside battery while charging from the car). The shorter the extension cord running from the car to the house the less power loss you will experience but with high quality, heavy duty extension cords, power loss will be reduced. Know where your fuses are in your car and have extras (modern cars have spare fuses and a tool attached inside the cover of the fuse box under the hood). How long can you run the inverter off the car battery without turning the car on? If there is a high load, run the car. Some people say run the car every hour for about 15 minutes, but you might also be able to read the current charge of the battery (using the DC volt meter pictured above) to determine when the car needs to be run to recharge the car battery. Notes from this source on discharging 12 volt lead-acid batteries suggests that it will read 13.4 volts when fully charged (at the terminals) and you will need to recharge the car battery BEFORE it gets down to 10 volts (which is considered full discharge and will damage the battery). Finally, keep in mind that your ability to generate electricity depends on how much fuel you have in your car: consider making it a practice to fill up your car when you are 1/2 full.

Either the generator, the Battery Backup System, or the use of both, would use heavy duty extension cords, plug multipliers (as pictured left), chargers for devices (e.g. USB chargers for cell phones), AC outlet extenders, DC outlet extenders, and both regular and rechargeable batteries (as discussed above).
Note: the Battery backup system and using the car to power your house are both covered well by Steven Harris whose work inspired these solutions (more detailed notes here).
Save
Save
Save
Save
Save
Save
Save
Save
Save
Save
Save
Save
Save
Save
Save
Save
Save
Save
Save
Save
Save
Save
Save
Save
Save
Save
Save
Save
Save
Save
Save
Save
Save
Save
Save
Save
Save
Save
Save
Save
Save
Save
Save
Save
Save
Save
Save
Save
Save
Save
Save
Save
Save
Save
Save
Save
Save
Save
Save
Save
Save
Save
Save
Save
Save
Save
Save
Save
Save
Save
Save
Save
Save
Save
Save
Save
Save
Save
Save
Save
Save
Save
Save
Save
Save
Save
Save
Save
Save
Save
Save
Save
Save
Save
Save
Save
Save
Save
Save
Save
Save
Save
Save
Save
Save
Save
Save
Save
Save
Save
Save
Save
Save
Save
Save
Save
Save
Save
Save
Save
Save
Save
Save
Save
Save
Save
Save
Save
Save
Save
Save
Save
Save
Save
Save
Save
Save
Save
Save
Save
Save
Save
Save
Save
Save
Save
Save
Save
Save
Save
Save
Save
Save
Save
Save
Save
Save
Save
Save
Save
Save
Save
Save
Save
Save
Save
Save
Save
Save
Save
Save
Save
Save
Save
Save
Save
Save
Save
Save
Save
Save
Save
Save
Save
Save
Save
Save
Save
Save
Save
Save
Save
Save
Save
Save
Save
Save
Save
Save
Save
Save
Save
Save
Save
Save
Save
Save
Save
Save
Save
Save
Save
Save
Save
Save
Save
Save
Save
Save
Save
Save
Save
Save
Save
Save
Save
Save
Save
Save
Save
Save
Save
Save
Save
Save
Save
Save
Save
Save
Save
Save
Save
Save
Save
Save
Save
Save
Save
Save
Save
Save
Save
Save
Save
Save
Save
Save
Save
Save
Save
Save
Save
Save
Save
Save
Save