We hope Thriving Together was Awesome!
Now...your bonuses!
The Five Tips ebook is a small taste of the knowledge you'll gain in Kindness for a Change. 
I wrote the song, "We are here" during a hard time in my son's cancer treatment when he'd just left the hospital and the winter days were filled with protests – against Scott Walker's anti-union (anti people) policies – and chants of "this is what democracy looks like."
It was inspiring.
Make a good decision about where and how you invest in yourself but remember that the small size and discounted price for this Founders' level training is a one-time opportunity! 
Don't forget to take the Thriving Strategies Quiz. It's great for noticing your progress during the training and also helpful for learning more about whether KFAC is right for you.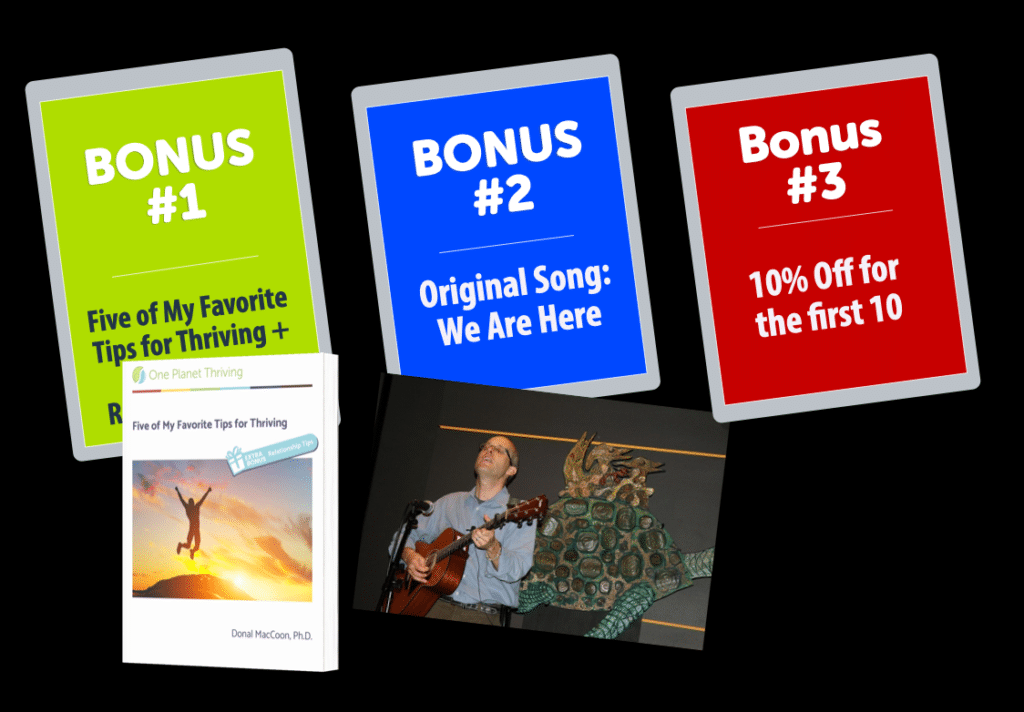 Choose Your 8-week Training Plan
Foundation Training
Live Large Group with Q&A
$
197
(or 3 payments of $75)
8 Live 1-2 hour sessions with Q&A
Master Class Training
Foundation + Small Group Coaching
$
397
(or 3 payments of $149)
8 Live 1-2 hour Small Group coaching sessions

Small Group Only FB Group

Tranformation Buddy Option
All meetings will be held live via weekly Zoom sessions at 7:00 PM (CT). Each meeting will last 1-2 hours (length depending on discussion and Q&A).
Those in the Foundation Training will meet every Tuesday for 8 weeks.
Those in the Master Class Training (which includes small group coaching) will meet twice per week: the large group training on Tuesdays and the small group coaching on Thursdays.
Foundation and Master Class live large group training sessions will be held on the following dates:
Tuesdays at 7 PM (CT): 10/17, 10/24, [Skip Halloween], 11/7, 11/14, [Skip Thanksgiving week], 11/28, 12/5, 12/12 [During Hanukkah…I'm sorry], 12/19.
Master Class participants will meet twice per week. Once for the large group training on Tuesdays and once for the live small group training sessions on Thursdays. The small group trainings will be held on the following dates:
Thursdays at 7 PM (CT): 10/19, 10/26, [Skip Halloween week because there's no new content from the large group], 11/9, 11/16, [Skip Thanksgiving], 11/30, 12/7, 12/14 [Both of these last 2 during Hanukkah…I'm sorry], 12/21.
Note that all large group sessions will be recorded with ALL material available at your convenience throughout your access period.
However, small group sessions will NOT be recorded unless everyone in the small group agrees and most people want it. This is both to provide greater confidentiality and because YOUR ACTUAL PRESENCE is much of the point. In any case, I encourage you to sign up for the Master Class Training with small group coaching only if you can commit to all small group sessions. This commitment is for yourself and the other members of the group.