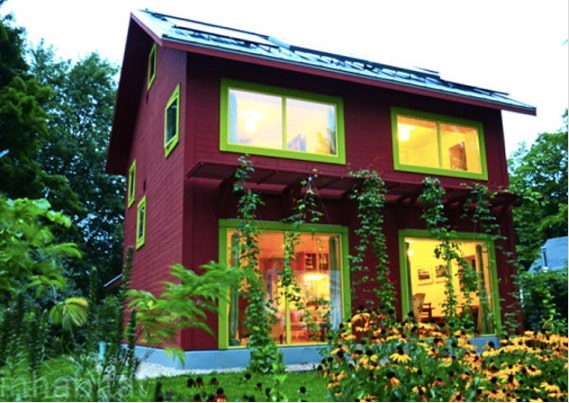 As we think about life design, evolving plans for a physical community, and various physical and social technologies that will bring us from the dysfunctional status quo to one planet thriving,  it seems suitable to consider the physical structure of the living space in a bit more detail. According to the United States Census Bureau 2011, "the average single-family house completed was 2,480 square feet."
Sonya Newenhouse Ph.D. (608-220-8029) has developed three kit homes (1 BR = 600 sq ft, 2 BR = 800 sq ft; 3 BR = 1000 sq ft) that are at least 50% smaller and 80% more energy efficient than the average home. The NewenHouse (see this pdf for floor plans and more) is Pasivhouse (video from passivhouse owner; and another) and LEED certified. Her 888 square foot version, located at 422 Hickory St in Viroqua, Wisconsin, cost $173/square foot to build for a total cost of $153,624.
The NewenHouse prototype is located in Viroqua, WI where the average low temperature in January is 6 degrees however the peak heat demand of a NewenHouse is approximately 2500 watts. Sonya mentions in one of her blogs that she turned on the houses heat source for two extra chilly days. The total two day energy consumption was 650 watts. According to the U.S. Energy Information Administration, "in 2010, the average annual electricity consumption for a U.S. residential utility customer was 11,496 kWh, an average of 958 kilowatthours (kWh) per month." The NewenHouse is substantially smaller and more efficient than the average American is accustomed to but would this allow for more affordability allowing for a more economically diverse population in an intentional community? There are many things to consider.
Here's a video tour of the house's first floor:
And, now the second floor:
And, the 3-season porch:
This video describes the specifics of the kitchen cabinets, including their use of a BioShield Hard Oil finish as an alternative to toxic varnish.
Sources:
Save
Save
Save